Description
A Real Narmada Wild Flowers honey
Narmada river is the third longest river in India and its ancient name is Rewa Nadi (Rewa River). Narmada Wild Honey has distinctive properties of trees and plants growing at the banks of Narmada river in Rajpipla and Kevadiya of Narmada district. Wild plants of Narmada include Teak (Tectona Grandis) and Bamboo (Bambusa Vulgaris) trees. Bamboo is one of the fastest growing crops and teak is also very popular for its quality of wood used to make furniture and home accessories. The honey made from these trees is very nutritious and has healing properties for physical wounds.
Honey Farming Information
Honey Bee species: Apis mellifera Honey
Color: Reddish,
Harvesting & Extraction period: December to February
Origin: hills and wild area of Narmada district.
UNBOXING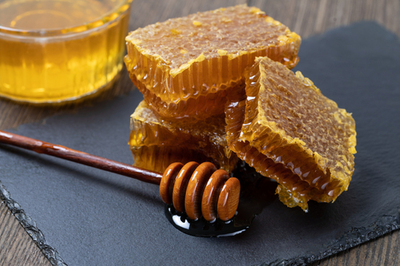 narmada wild honey
"Madhudhara packaging is very safe and secure, making sure the product reaches its owner without any breakage or defect. It's neat and unique. The hard-board package of Madhudhara is especially made for the safety of the glass bottles in it. No doubt that madhudhara is reliable and dependable when it comes to its quality of packaging.The efficient delivery of your package is done by the most trusted delivery partners of Madhudhara."