Description
Raw Ajwain (Bishop's Weed) Flowers Honey
"This Honey Collected From Ajwain Flowers Nectars"
Extracted from the Ajwain herbs during the blooming period, our beekeepers ensure you get the best quality honey. Ajwain as a herb itself is an ayurvedic miracle with multiple health benefits like antifungal, antioxidants, reduced acid reflux, lowered risk of heart & respiratory diseases, booting immunity, etc. Ajwain Flower Honey while harbouring the same benefits will also engage your taste buds with its heavenly honey sweetness. It can also be used to treat common cold, cough & sore throat.
Raw Ajwain Flowers Honey is a very unique product of Madhudhara Farm. This honey becomes very special in terms of Ayurveda as bees collect the honey from the flower nectars of Ajwain. Ajwain is an herb which has very strong aroma and so it is known as "Ugragandha" in Sanskrit.
Honey Bee species: Apis mellifera
Honey Color: Black
Harvesting & Extraction period: October to December
Origin: Riverine regions of Saurashtra Gujarat
UNBOXING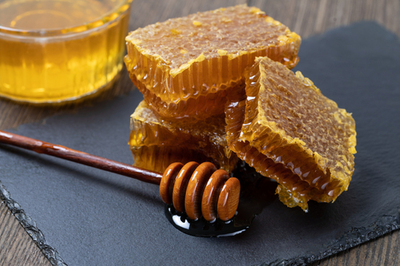 Raw Ajwain Flowers Honey
"Madhudhara packaging is very safe and secure, making sure the product reaches its owner without any breakage or defect. It's neat and unique. The hard-board package of Madhudhara is especially made for the safety of the glass bottles in it. No doubt that madhudhara is reliable and dependable when it comes to its quality of packaging.The efficient delivery of your package is done by the most trusted delivery partners of Madhudhara."